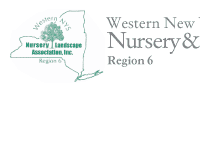 Welcome to the Western New York State
Nursery & Landscape Association Web Site.
Welcome Guest, If you are already a WNYSNLA member, please login above.

  A not-for-profit corporation of Green Industry professionals (including teachers, nurseries, garden centers, growers, landscape architects, landscapers, tree care firms, and lawn care firms) the
WESTERN NEW YORK STATE NURSERY AND LANDSCAPE ASSOCIATION, INC.
was founded in the early 1940's.

The WNYSN&LA funds the WESTERN NEW YORK STATE NURSERYMEN'S FOUNDATION
which makes scholorships available to college students who show promise and interest in our industry. The Foundation supports all educational activities held by the Association throughout the year. We also strive to promote, expand, improve, and elevate landscaping, nursery, and related trades.